Algonquin College paralegal students to be trained on uLaw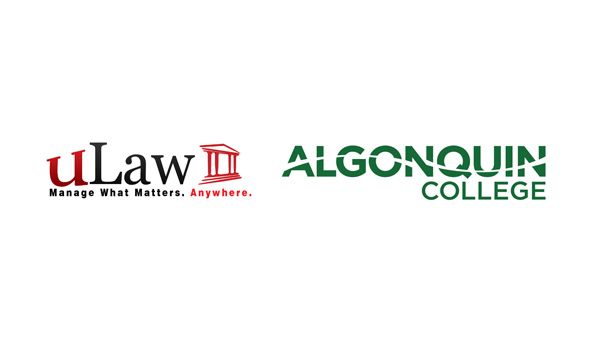 Students enrolled in Algonquin College's paralegal program are exposed to several practice-oriented educational tools, which now includes uLawPractice, a powerful automated legal accounting and practice management suite.
In August, Algonquin College began collaborating with uLaw to outfit its paralegal program with uLaw's EDU environment. Faculty can use the software to monitor a student's production of accurate books and records in areas related to legal accounting, practice management, and audit preparation.
All of these practice-management duties are highly important for legal practitioners, particularly paralegals, who will be subject to thorough auditing standards during their professional careers. The collaboration will provide Algonquin students with access to uLawPractice through 2025.
"Algonquin College has always been at the forefront of cutting edge technologies. As a software company, we've always known this; so it's an honour for our flagship legal accounting and practice management program to be taught at such an important institution. We're proud to be helping the next generation of legal professionals along with educators at Algonquin!" said uLaw CEO Terry Curtis. "Amidst the pandemic, remote learning strategies are pivotal to post-secondary education – and we are happy to deliver this opportunity to students."
"Algonquin College strives to be a leader in personalized, flexible learning and this collaboration with uLaw will offer our paralegal students with an innovative, new, digital-learning platform," said Tamra Alexander, Paralegal Program Coordinator, Algonquin College.
About  uLawPractice
Founded in 2010 and with its headquarters in Ottawa, uLaw works as a powerful browser-based practice management system which handles bookkeeping, form automation, and intricate trust and general accounting procedures. One of the greatest virtues of the system, apart from its "made in Canada, for Canadian practitioners" ethos, is the fact that the software is cloud-based and doesn't rely on local files to be stored on a computer.
uLawPractice is currently used by hundreds of law offices across Canada to handle practice management and legal accounting.
About Algonquin College
The mission of Algonquin College of Applied Arts and Technology is to transform hopes and dreams into lifelong success. Algonquin College, an Ontario public sector community college, does this by offering hands-on, digitally connected, experiential learning in more than 340 programs. Based in the Ottawa Valley, Algonquin College is the largest polytechnic institute in Eastern Ontario.
-30-
For media inquiries:
uLaw
Sam Cooley
Director of Marketing
uLawPractice.com
Office: +1.613.319.8934
sam.m.cooley@superfluidsoftware.com
Chris Lackner
Communications Officer
Algonquin College
Office: 613-727-4723 ext. 2091
lacknec@algonquincollege.com