CBA to host immigration law conference about diversity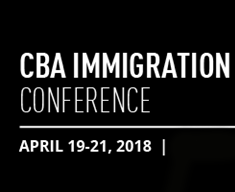 How does a country balance economic prosperity, security, international obligations and humanitarian compassion? And what's required of lawyers who want to make sure their clients stay on the right side of that balance?
That will be the focus of this year's Immigration Law Conference
Running from April 19-21 in Ottawa, with two full days of sessions, the conference will consider Canadian and global trends – including recent and ongoing developments in U.S. immigration policy.
Expert speakers include key officials from the federal government, members of the private bar, and sitting judges.
Issues on the agenda include the pros and cons of the Global Skills Strategy; how to prepare for an RPD hearing; updates on ADR and appeals process in family class sponsorships; business immigration options; and whether officers are applying the correct legal test on the expansion of humanitarian and compassionate grounds.
There will also be the opportunity to network with your colleagues from across the country, starting with the opening reception on Parliament Hill on the 19th.
The conference will close with a screening of The Crossing, filmmaker George Kurian's documentary about the struggle of a group of Syrian refugees who set out from Egypt to cross the Mediterranean and make their way across Europe. View the trailer.
Also featured on the CBA website is a list of topics to be covered during this year's event, including:
-Global Skills Strategy-The new Citizenship Act-Border arrivals of refugee claimants-Business immigration options
Visit this page to register