Court form automation for BC lawyers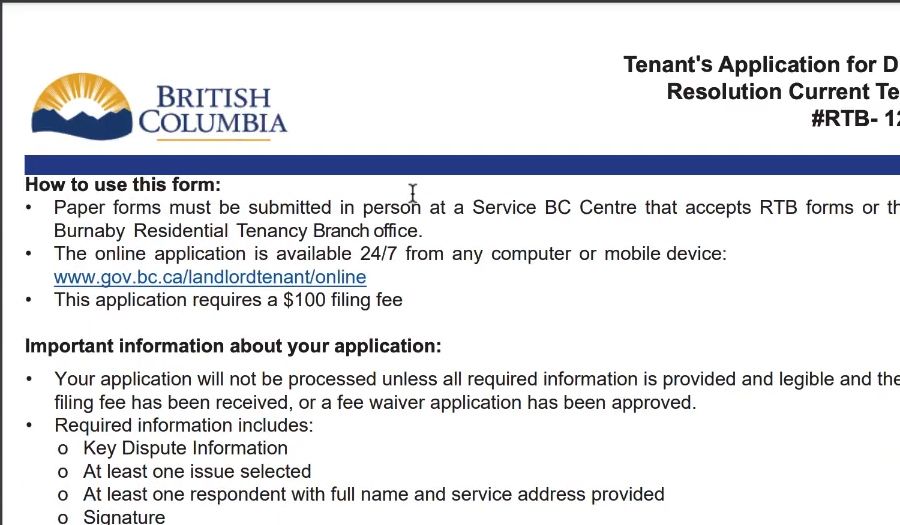 Automation of court forms in the province of British Columbia can now be conducted in uLawPractice, Canada's most trusted legal accounting and practice management software suite.
Utilizing sophisticated cloud-based techologies, uLawPractice's algorithms allow a lawyer to repurpose data inputted the system to automatically pre-populate court forms that they will encounter if operating in British Columbia.
Users can first get started by visiting uLawPractice's main settings page. See image below.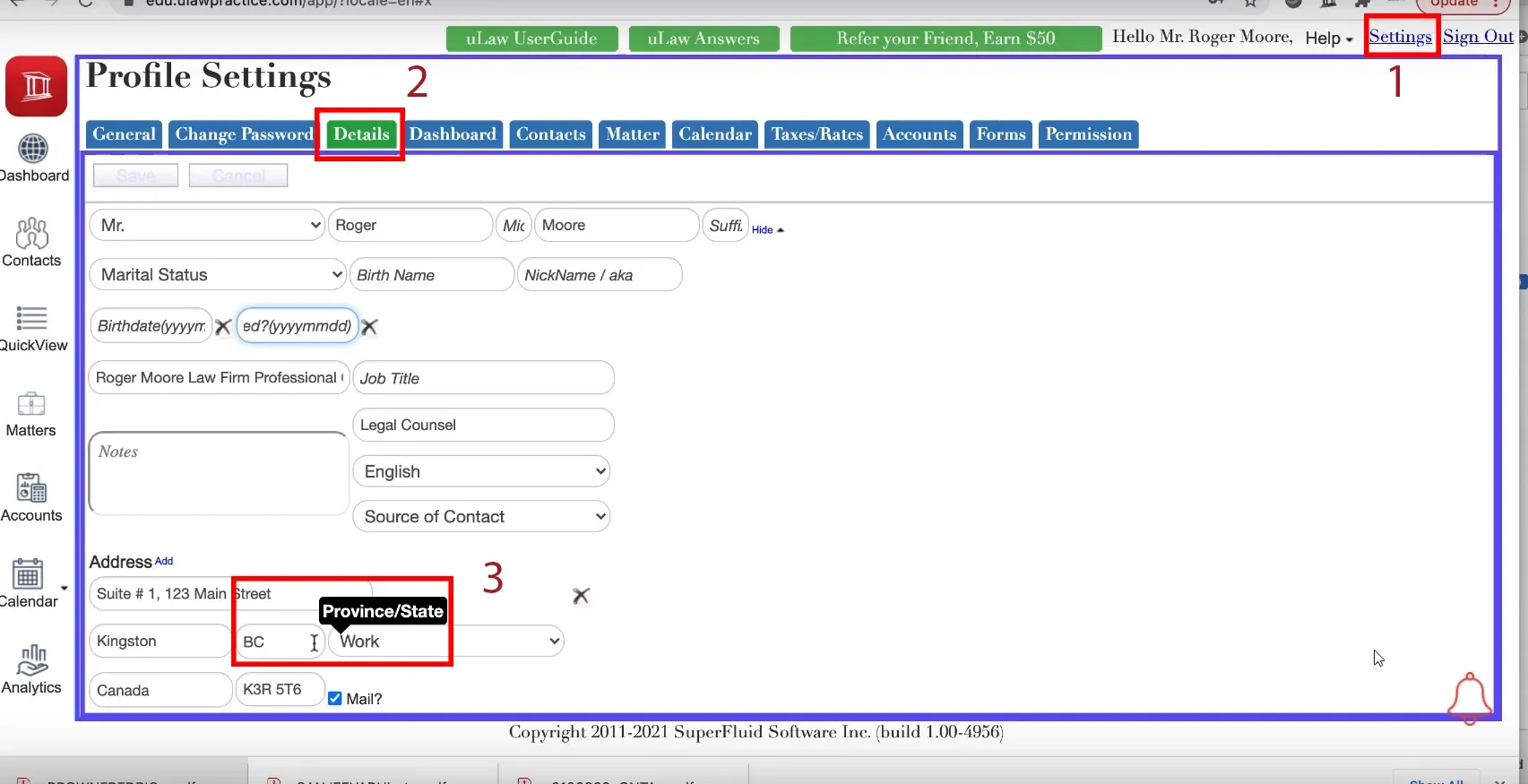 In order for B.C. court forms to be available, the system needs to be configured so that it knows your practice is operating out of Alberta.
In order to do so, visit the settings page (top right)->Details->Navigate to the Address fields at the bottom of the page, and include BC as your province.
The next step is to proceed with creating a matter. Incorporate the details which pertain to your case, in particular filling out parties to the legal matter. For example, if you were handling a landlord & tenant dispute on behalf of a client, you may be adding parties to the legal matter, such as a married husband and wife who live at the same address. Go ahead and incorporate them as parties to the legal matter, and then when you click on Court forms->LaTB.
Once you download your new court forms, your client's information will be incorporated into British Columbia court form format. Example below.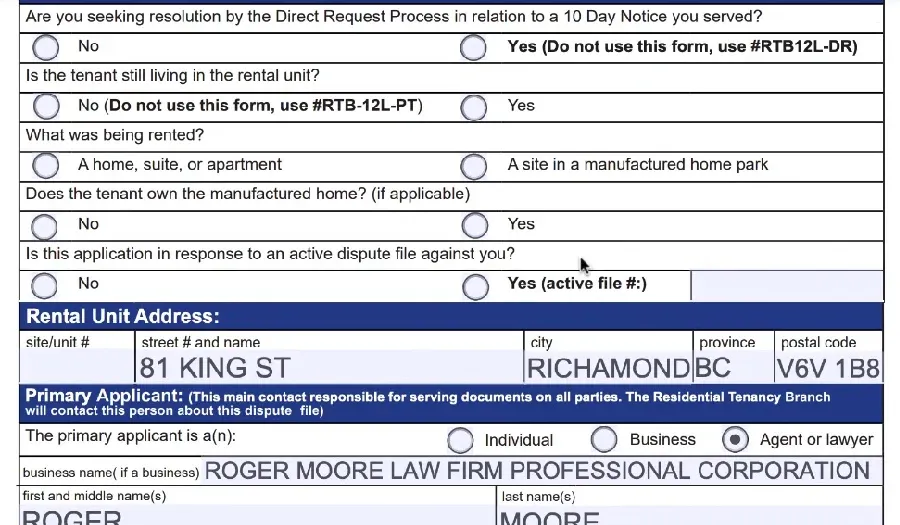 You'll also notice within these pre-filled forms, your firm data and other additional parties will have their information incorporated into the form, including the date.
If you want the court file number however, you'll need to save the file number within the main controls under the matter.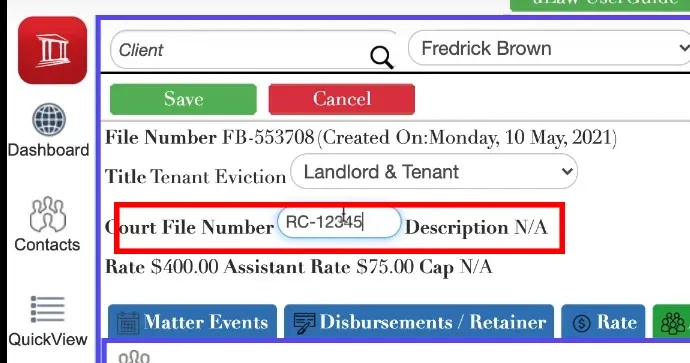 Once the file number is incorporated, future downloads of the form will indicate the court file number. When it gets downloaded, you'll be able to manually fill out any remaining details before final submission.
Note: there are many separate forms that can be generated based on who your client is. You will be able to select the relevant court form from the dropdown menu. In the event you are representing a tenant, you will see forms for tenants, and the same goes for landlords as well. uLawPractice also handles court forms for other areas of practice, we're just using landlord & tenant as an example.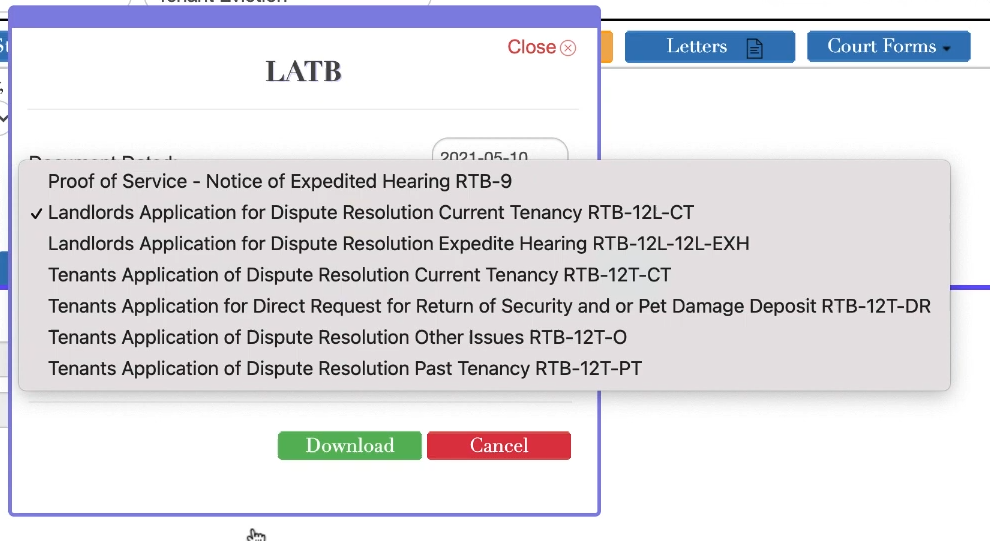 For a full video on this subject, you can visit this link to watch an interactive walkthrough of this court form filling for British Columbia law firms.