Directly importing bank statements into your accounts or matters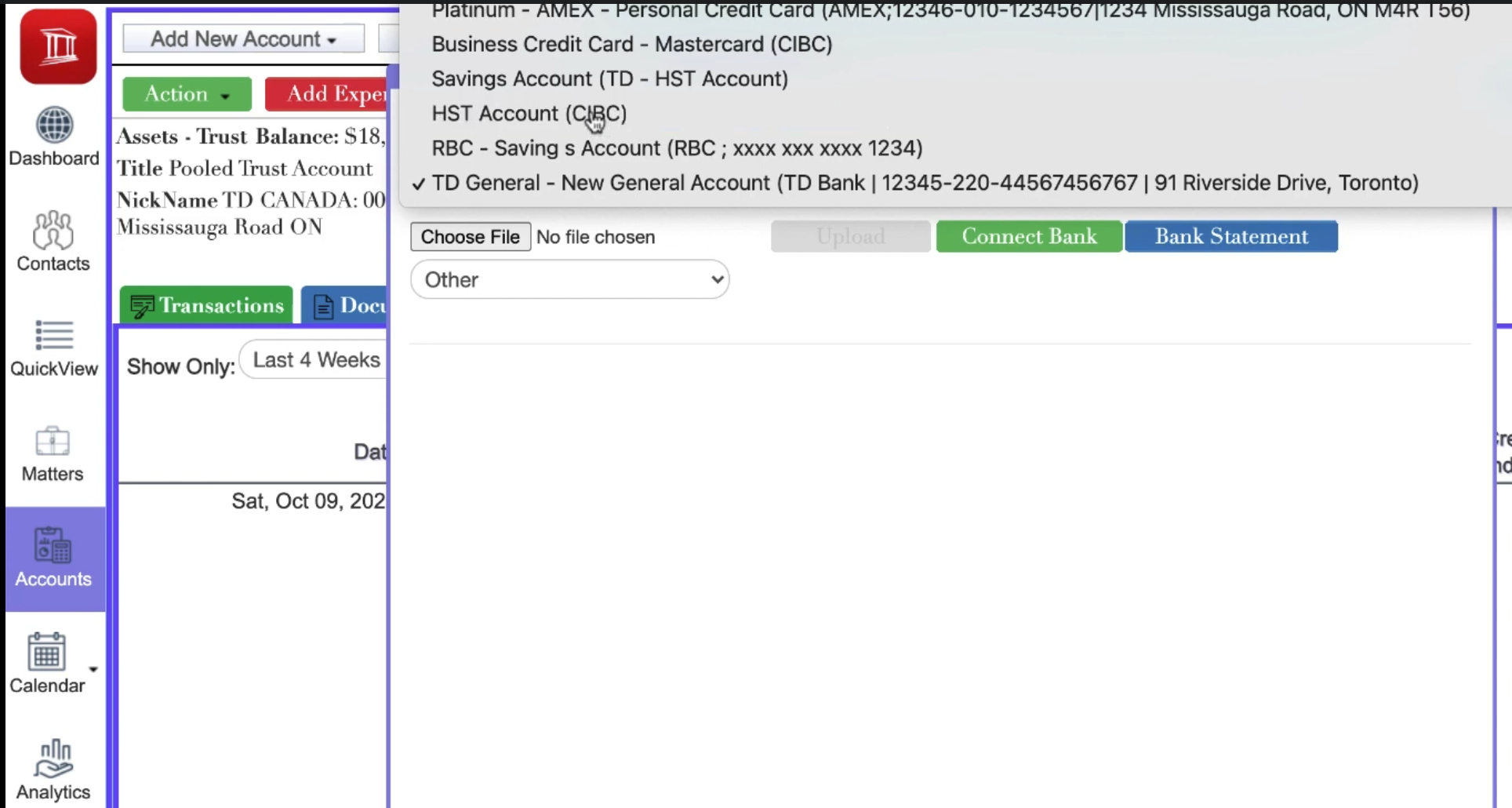 This is the second walkthrough in a series of articles written about an important new bank-linking series announcing a highly important uLaw feature for linking your bank account with uLaw. To read the first one, click here.
So you've already linked your bank accounts with uLawPractice and you now want to learn how to speed up the process of handling your accounts and legal matters with the use of this new feature. You've come to the right place, and we're going to show you how it works. If you'd like to watch a video on it, you can click here or read below.
This process is expected to shave at least 30 minutes off the usual importation process because you need to typically log into your bank, download the CSV for the correct time range, upload it to uLaw or in some cases send it to a bookkeeper who needs to do it. This new system saves you time and cuts away the potential for human error.
Start by logging into uLaw, going to Accounts (left column) -> Import Bank Statement (green, at top) -> Choose your account from the dropdown menu ->Connect Bank (green). It'll look something like this:
The moment you hit this green button "Connect Bank", you will trigger a series of events in the background. uLawPractice will communicate and pull information from your bank--all without you having to log in!
Beneath in the second half of the screen, your screen will be populated with transactional data which you can repurpose into the uLaw system. Take note of the dates, the sum of money, and also the dropdown "Take Action" field which will let you categorize the transaction. It should look something like this.
In the next article in this series on bank integration, we will be walking you through how you can give permission to your bookkeepers and assistants to connect to your bank. Click here to read it.
uLaw will already know a few things about the information and select it automatically for you; of course, for your final approval.
One of the best parts about this system is that uLawPractice will let you know if you've imported something more than once before. The system has your back, and will prevent you from making accidental double entries.
Through this method you'll easily be able to parse through all your itemized expenses accrued over the month or weeks, easily categorizing items such as starbucks purchases or travel expenses like uber expenses which you otherwise may have lost track of, or didn't think about.
Properly capturing expenses is an important part of running a successful business, since it lowers the amount of taxable income on your business. At the end of the year, you'll be glad you took the time to categorize actual expenses. The end result is you'll get to keep more of your hard-earned money.
Want to learn how to correctly set permissions so your assistants and bookkeepers can be connected to your bank? Follow this link to read the third and final article in this series!