"Efficient, Intuitive, Essential", clients weigh in on our practice management software

Increasing numbers of lawyers and paralegals are sharing with us their experience using uLaw Practice's original and cost-effective legal accounting and practice management software.
Below you'll find a few testimonials sent our way recently.
Rolled into one seamless piece of cloud-based software, we specialize in offering legal and paralegal firms the cheapest and most thorough software available on the market to handle legal accounting AND practice management software in an all-inclusive program geared specifically for your practice.

'Easy to use; versatile and importantly, mobile. I have been using this for almost 18 months now,' says lawyer Ram Shankar.
Among the pros cited by Shankar is "excellent feedback and help when requested. Easy to use for a non-technical person like me. Easily navigable; well presented; easy to enter data and information. Importantly, being mobile, I can use it anywhere on the go. I am not rooted in the main office."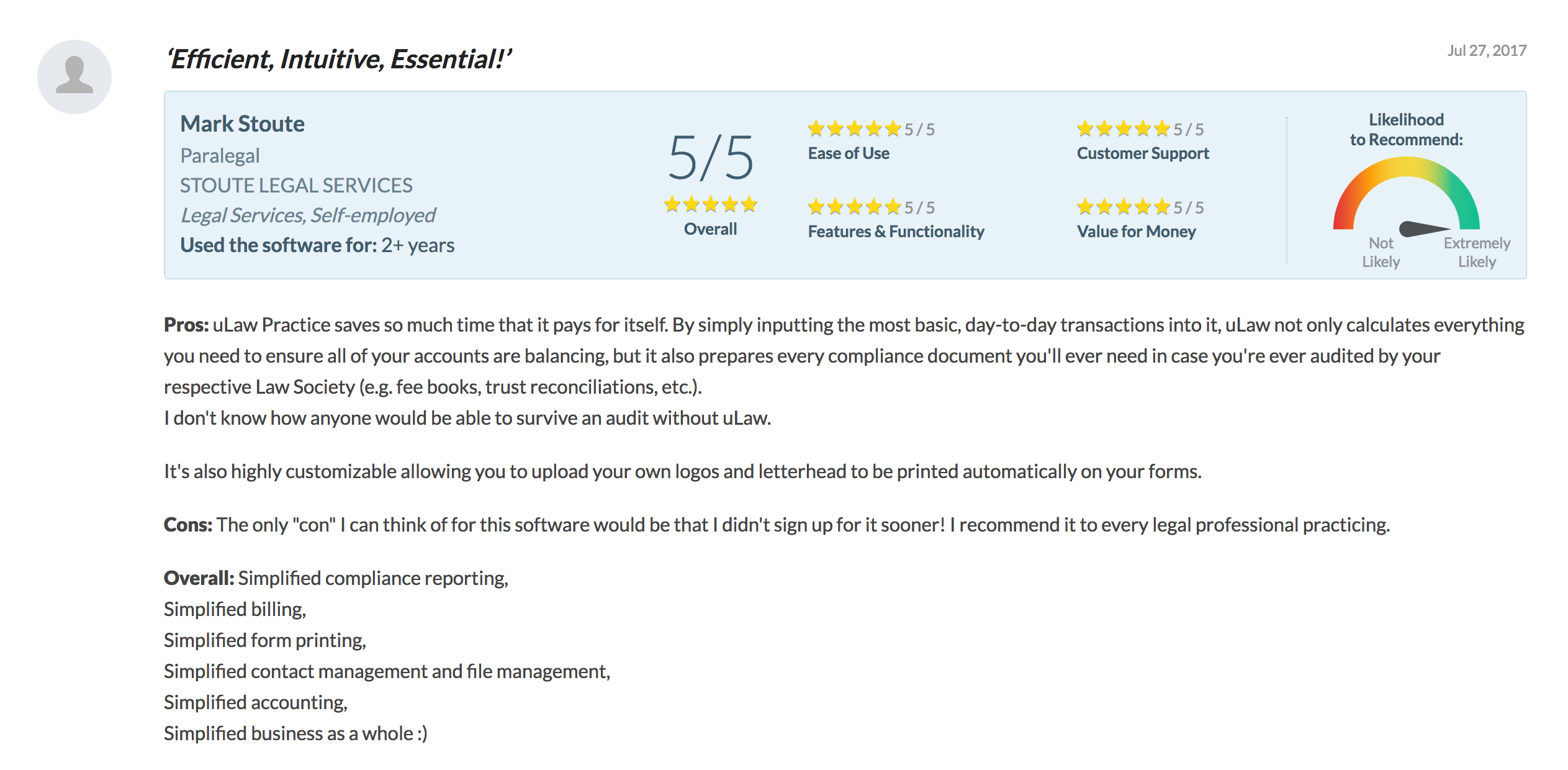 In a testimonial titled "Efficient, Intuitive, Essential!" penned by Paralegal Mark Stoute, uLaw Practice scored 5/5 for its ability to save time so other tasks can be performed during a regular work week.
"It pays for itself," writes Stoute. "By simply inputting the most basic, day-to-day transactions into it, uLaw not only calculates everything you need to ensure all of your accounts are balancing, but it also prepares every compliance document you'll ever need in case you're ever audited by your respective law society."
"I don't know how anyone would be able to survive an audit without uLaw."
If you're interested in giving this software a shot, click the link below to begin your free 30-day trial
Tags: Uncategorized