LawPay $150 credit promotion for uLaw clients starts Aug 1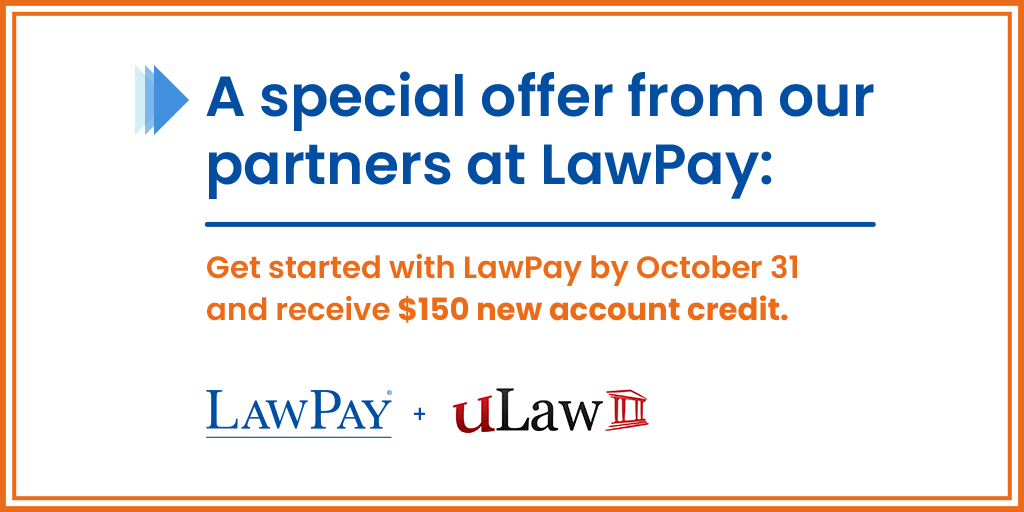 Special offer from our partners at LawPay: sign up for LawPay by October 31 to receive a $150 new account credit. Get started with LawPay today>>
uLawPractice has partnered with LawPay to bring integrated payments into our cloud-based practice management and legal accounting software suite.
If you are interested in the $150 discount, visit here. The discount begins on August 1 2022
Background on our partnership
Earlier in the year, uLaw and LawPay partnered together to combine our accounting-focused practice management solution with an integrated payment platform, so clients can pay law firms faster using uLaw.
LawPay was developed specifically to help law firms streamline billings and collections, providing a simple, secure solution for legal clients to pay their bills. LawPay is the industry leader in legal payments, providing a cost-effective solution for more than 50,000 law firms around the country. It's available through all 50 state bars, 60+ local and specialty bars and the ABA as a vetted and recommended payment solution for the legal industry. LawPay is also the ALA's Exclusive VIP Partner for Payment Processing. Learn more at lawpay.com.