Loyalist College partners with uLaw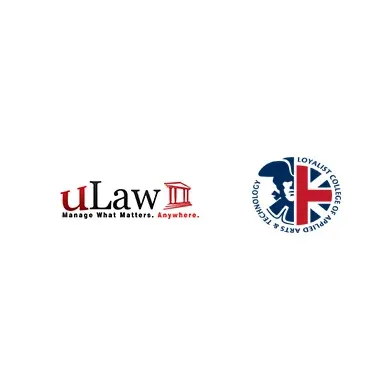 Oct. 5, 2020 -- uLawPractice partners with Loyalist College to support paralegal students and faculty with practice management and legal accounting suite 2020-2025
In light of pandemic-related restrictions placed on educational institutions, teachers at Loyalist College in Belleville Ontario will be welcoming students to a blended learning curriculum for the upcoming academic year.
Among the changes made to the paralegal program was the incorporation of uLawPractice into the school's digital learning platform for students.
In August, uLaw partnered with Loyalist College to outfit its paralegal program with support of its EDU environment. Students and staff are able to log in to their own practice accounts and conduct exercises that they can later be graded on. With the software, teachers can monitor a student's progress with the production of accurate accounting books and recordings, including other important areas such as practice management, audit compliance and account reconciliation. All of these clerical duties are highly important for legal practitioners, particularly paralegals, who will be subject to thorough auditing standards upon being granted a licence to practice law later in their careers.
"Schools such as Loyalist College will be able to use cutting edge technologies built specifically for Canadian legal practitioners in mind. Getting practical experience with an industry standard is a key mode to success for post secondary education in the 21st century, and we're happy the pandemic won't be taking that away from any of these students," says uLawPractice CEO Terry Curtis.
Founded in 2010 and with its headquarters in Ottawa, uLaw works as a powerful browser-based practice management system which handles bookkeeping, form automation, and intricate trust and general accounting procedures. One of the greatest virtues of the system, apart from its "made in Canada, for Canadian practitioners' ethos, is the fact that the software is cloud-based and doesn't rely on local files to be stored on a computer.
uLawPractice is currently used by hundreds of law offices across Canada to handle practice management and legal accounting.