New Feature: "Ask for help"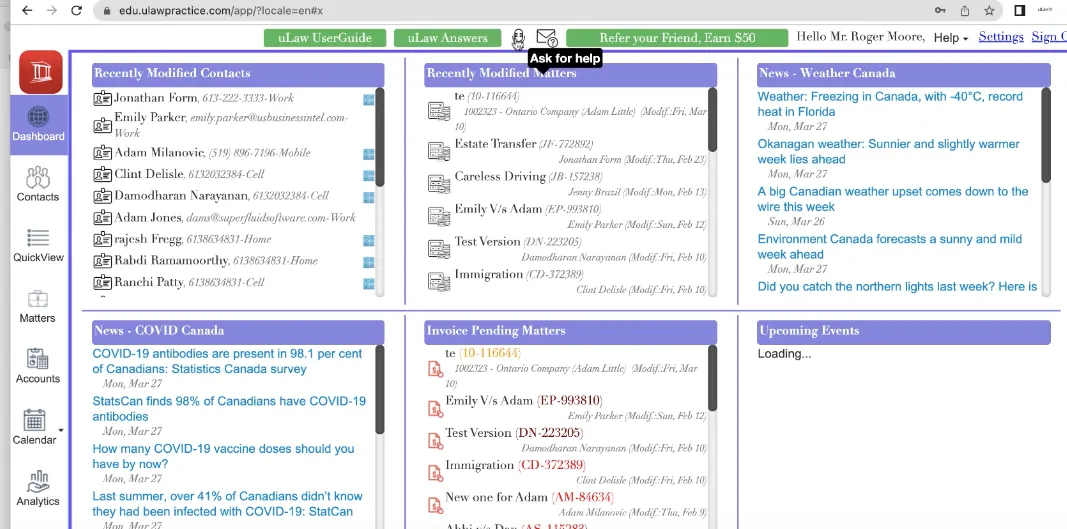 Using simply their own voice and microphone, uLaw users can now ask questions about how to accomplish bookkeeeping and accounting tasks directly within uLaw.
Earlier this month, uLaw developers rolled out the "Ask for Help" feature. With the assistance of machine learning algorithms trained to understand Canadian vernacular, users can simply navigate to a new button located at the top of the page.
Take a look at the screenshot below, do you see the button?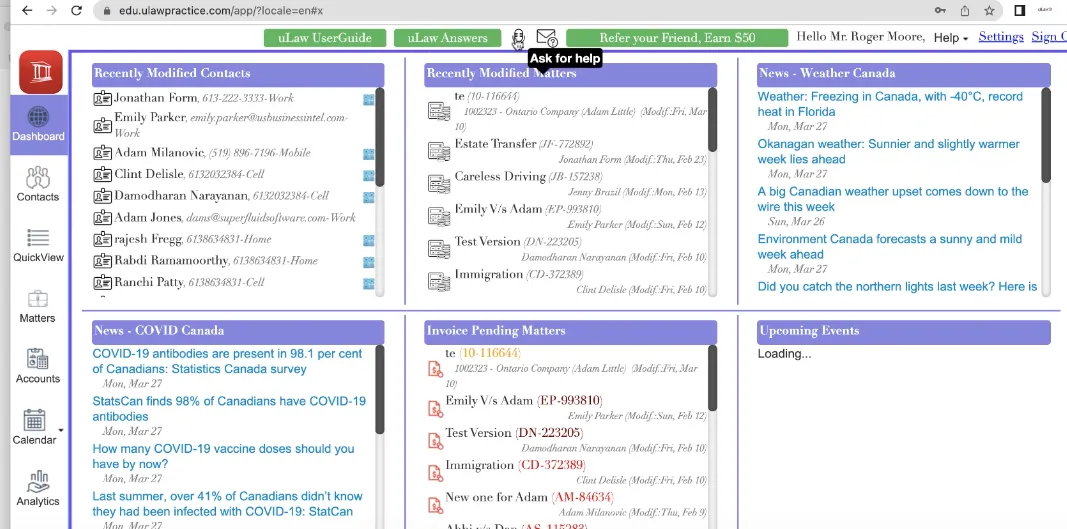 Let's get a bit closer.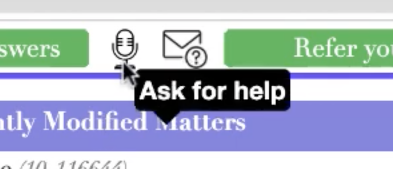 How it works
1. Click "ask for help" (at the top, see image above)
Upon the first instance of users navigating to this button by logging into their uLawPractice dashboard, users be read a disclaimer which explains how voice-to-text works.
As mentioned earlier, this feature uses machine learning to translate a user's voice into text.
2. Speak into the microphone, ask for help!
A prompt will show up in the screen, with a record button. Once a user hits "record", they can simply ask their question by speaking into their microphone.
3. Speech to text!

Once the recording is made, users must manually click the "speech to text" button to convert the recording to text.
This button will trigger an automatic parsing through the (more than 500+) uLaw Answers videos which cover a wide range of specialized legal accounting and practice management/compliance activities lawyers and bookkeepers could expect to encounter.
4. Ask for help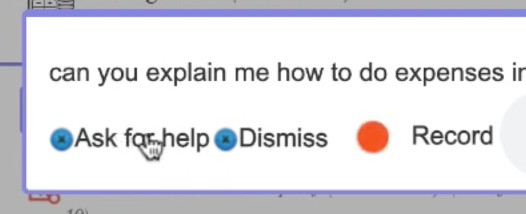 Once the text is converted into the string you want to search for, you will navigate to the button "ask for help" to submit your request.
Why this matters
This new feature is part of a wider effort on the part of the user experience coding team at uLaw to more tightly integrate some of the documentation that surrounds the software, and in bookkeeping and accounting in general when it comes to automating compliance and regulatory bookkeeping/clerical work conducted at law firms across the country.
Users can rest easy knowing that the majority of the activities they are attempting to conduct are well documented through video and text. Whether it's through the uLawpractice blog or on youtube, users should be able to find the answer they're looking for; and if not, you can always contact the uLawPractice support team, at support@ulawpractice.com