New Paper: Toronto researcher examines COVID impact on justice for public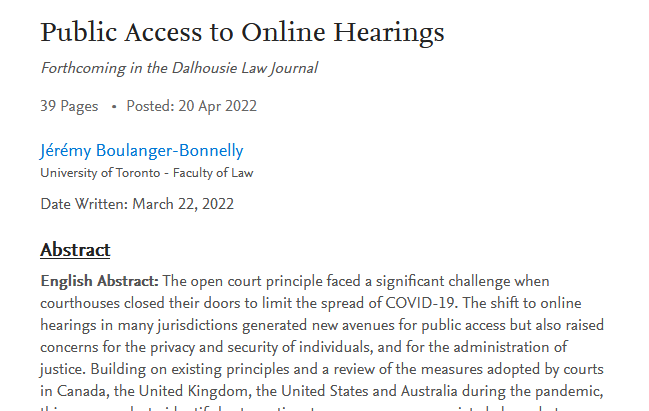 In a recently penned research paper, a University of Toronto doctoral student examines how the closures of courthouses across the province impacted access to justice.
"When it became clear that the pandemic would last months, if not years, justice institutions
sought different ways to resume their operations. With their facilities still partly closed, they turned
to audio- and videoconferencing technologies to hold remote hearings in which everyone—except
sometimes the judge—appeared from their home or office."
Dubbed "Public Access to Online Hearings" in the forthcoming Dalhouse Law Journal, the author Jeremy Boulanger-Bonnelly, who is a lawyer and doctoral student, posits that courts across the province have the ability to do better when it comes to information transparency.
Simple things such as court lists could be published in advance, for example. It is sometimes the case that court lists are only produced during the present day. But this information isn't easily obtainable to the general public if there isn't a lawyer in court getting access to the documents in person.
"The procedure for attending online hearings is sometimes
unavailable, or only available in notices that are buried in webpages destined to lawyers. Courts
should explain clearly and in plain language the steps that members of the public should take if
they want to attend online hearings."
Boulanger-Bonnelly claims in his paper that the costs of any such improvements would come at little cost to the courts and that simple websites could easily be devised to give more open access to the general public... a type of access that is conducive to more than just lawyers.

General online information and access to open digital courts can not just be unfettered, warns Boulanger-Bonnelly.In his paper he references the fact there were many occasions where simple https links were widely distributed by courts.

"When the courts gave out their links to everyone without any procedure, they didn't really show proper concern for the privacy and security of people involved in the hearings," Boulanger-Bonnelly says.
One such remedy posited by the author is to provide access to people without requiring them to provide a reason, but still requiring digital attendees to provide basic personal information including an undertaking to abide by the rules of the court.
Appellate hearings for example are a bit different than other court proceedings because usually it's about questions about the interpretation and meanings of law, as opposed to the facts of the case which have fewer privacy and security concerns.
"I argue that appellate hearings should be all broadcast very openly, save exceptions," Boulanger-Bonnelly says. "This would enhance the open court principle and I see no principled basis to restrict the accessibility of appellate hearings."
In the autumn  of 2023 Boulanger-Bonnelly is entering McGill's faculty of law as an assistant professor.
You can read the entirety of his paper by visiting this link.