Omar talks tech in platform pitch to OBA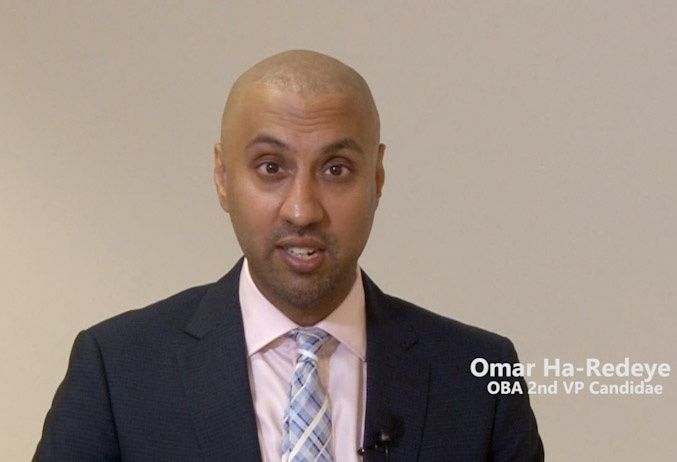 If the Ontario Bar Association plans to remain relevant in the years to come it must embrace technology and provide hands-on training to lawyers who wish to remain competitive in private practice.
This was among several platform points discussed by Toronto lawyer Omar Ha-Redeye, a prominent commentator and writer on legal matters. Ha-Redeye spoke as panellist at a student-run event at Ryerson University on June 1.
Speakers were questioned on topics ranging from student debt to access to justice in rural communities to a variety of other issues scrutinized heavily by young lawyers and law students. Ha-Redeye is currently a candidate seeking election as 2nd Vice President of the Ontario Bar Association (OBA).
Among his platform points was a strong support for emerging technologies, however he thinks merely providing CPD events is not enough training for practitioners, many of whom are (or will become) sole practitioners in the future.
"I would like to provide hands on experience and demonstrate to practitioners how these tools can improve their practice, move their practice forward, and allow them to be more profitable."
According to Ha-Redeye, cost savings provided by automated legal accounting and practice management solutions and other technologies can translate into lower legal fees for clients. "If (firms) can be more profitable it allows them to provide more cost effective services, thereby promoting access to justice," Ha-Redeye said.
To this day, Canada's most prominent jurist, Chief Justice Richard Wagner, has recently stated one of the biggest issues facing the justice system today is the diminishing access to justice for regular Canadians.
At a time when a majority of Canadians remain unrepresented in matters such as separation and divorce due to the high cost of retaining a lawyer to navigate a tricky or unpredictable legal matter, lawyers can and should do all they can to provide low legal fees. Ha-Redeye's campaign platform can be read in full by clicking this link. He is vying for 2nd VP and eventual presidency of the OBA.