Spot Light Q&A with Lawyer Inderdeep Padda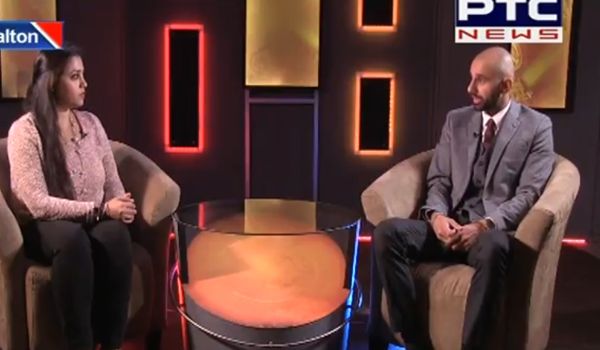 As part of its ongoing Spot Light series profiling Canadian legal practitioners, the uLaw team recently sat down with Inderdeep Padda, a real estate and criminal lawyer based in the Peel Region.
Since 2015 Padda has been a licensed lawyer, and he runs his own practice, Everstone Law.
uLaw spoke with Padda to gain a better understanding of what motivated him to enter the field of law and where he sees the industry is heading in the future.
Q: What's your academic history before entering the legal field?
A: "I completed my Undergraduate Degree from the University of Toronto, an Honours Bachelor of Arts Degree, a double Major Program in Sociology and Criminology.
"During this time, I worked as a  Court Intake Worker at the Ontario Court of Justice in Toronto, at the Probation Department. I  collaboratively worked with the Court Liaison Officer to deliver extensive legal support to clients.  Many clients were from racialized communities, and were substance abuse users, who relied on  social support persons to help explain the probation order. I utilized my strong multilingual,  interpersonal, and excellent communication skills to explain to the relevant parties the consequences  of non-compliance with the orders set by the court."
"Afterwards, I attended law school located in  Windsor, Ontario. At law school, I worked at Community Legal Aid as a caseworker.  I represented  diverse low-income clients by conducting extensive intakes, providing summary legal advice, conducting  crown pre-trials, and corresponding with various stakeholders to ensure the clients were equally  represented in court."
Padda says he worked as a student-at-law with the Ministry of the Attorney General -- Civil Remedies for Illicit Activities.
"I had the unique opportunity to learn about  criminal/civil law issues in a fast-paced environment.
I was responsible for drafting pleadings, involving high profile cases, in order to support the Crown's application for asset forfeiture of those  engaged in profit motivated unlawful activity."
Q: At what point in time in your life did you decide to pursue the field of  law? Why did you make such a decision?
A: "I decided to pursue law in high school. I always knew I wanted to be a lawyer, as I wanted to  ensure people obtain equal access to justice, and to ensure their legal rights wouldn't be infringed."
The most impactful extracurricular activity he took part in as an adolescent was when he volunteered for the Ontario Court of Justice.
"As a volunteer, I read probation orders to offenders, outlined consequences of probation infractions and made probation appointments. While inputting the data of an offender during the intake, I found that many were marginalized offenders who lacked access to defense counsel and relied on volunteers and other social support persons to explain the probation order."
"This experience revealed that  certain groups of people are unable to voice their concerns and that certain policies need to be implemented for a  pro-social change."
"By integrating innovative strategies into practice, I was able to extend my comfort zone and help aid the offenders with their issues to the best of my abilities. I provided them with the resources to become  knowledgeable about the law."
"Moreover, through volunteering and encountering a wide range of diversity, I reflected on my own status as a  minority, thus contributing to my interest in advocating for social justice issues."
Q: What were your reasons for becoming the lawyer you are today? Why did you focus on Criminal and Real Estate Law?
A: "Unequal access to the legal system has become the hallmark of injustice arising in the contemporary world. As  Martin Luther King said, 'Injustice anywhere is a threat to justice everywhere'. My desire to study law stemmed  from this quote in eradicating socially inaccessible boundaries and creating limitless opportunities for marginalized groups to voice their concerns."
"I  wanted to actively represent the community, solve problems by using legal strategies and re-conceptualize a new  understanding of what is meant by equality. Also, by specializing in law, I wanted to be a proactive agent for change  rather than a passive one.
"Currently, I operate my own legal practice and focus on Criminal and Real Estate Law. As a Criminal Defence Lawyer at Everstone Law in the Peel Region, I have actively represented both  Adult and Youth (Youth Criminal Justice Act) clients on wide areas of Provincial and Federal matters in  Criminal courts, including speciality courts."
Q: Have you noticed any trends or shifts in the manner in which the law is practiced in Ontario?
A: "The trends that I have noticed during my years of practice, is the increase in offences  related to crimes against the person, such as: domestic assault. From my experiences I find that this is  often as a result of lack of effective communication between spouses, or lack of anger management  control."
Q: Can you reflect the types of challenges you face working as a lawyer?
A: "Lack of full information from clients during an initial meeting. Clients are often skeptical about providing insights into the case.
"I have countered that by informing the importance of solicitor client privilege and confidentiality; and preparing detailed intake forms so as to ensure I get  full facts of the case."
Q: Can you remark on any particular court cases and/or regulatory  changes/shifts which you've encountered and had to work around while  working in the field of law?
A: "Due to recent amendments in the Criminal Code, bail hearings related to domestic violence (if you have a previous record in relation to this) are now reverse onus bails. This means that the onus is on the defence to show why  the accused should be released. This requires a lot of preparation, and a strategic bail release plan."
"R v Antic has reframed how bail strategies ought to be formulated. Based on the facts of the case, defence will try to advocate for a release without any recognizance. Depending on the severity of the facts and the circumstances of the offender, it'll go up the ladder to secure alternative forms of release. Sureties may be needed, and that requires additional preparation."
Q: What are some of the most satisfying moments working as a lawyer?
A: "I have a few cases, that have been truly satisfying.
"I once had a client who was here as a Permanent Resident and had been charged with Criminal Code violations of impaired driving and over 80. After ongoing pretrial negotiation and continued efforts, the client was sentenced to a Provincial Highway Traffic Act offence. Because of the result of this case, my client was saved from deportation and revocation of his permanent residence status in Canada."
"I had another client who was charged with many Criminal Code offences, along with drinking and driving. He had status in Canada and was on a work permit at the time. After relentless negotiations by my office, the matter was resolved to a lower related offence, but sentenced to a discharge. A discharge isn't a conviction; so the client was saved from receiving a permanent criminal record; and the client did not face any deportation under the Immigration Refugee Protection Act.
Q: How do you see the law changing in the future?
A: "I see more online filing of applications and motions and related court paperwork. More online crown pretrials, judicial pre-trials, video conferences, court appearances."
"This will save time because then lawyer's don't need to travel to court; so they can allocate that time to files."