uLaw accounting analytics now on mobile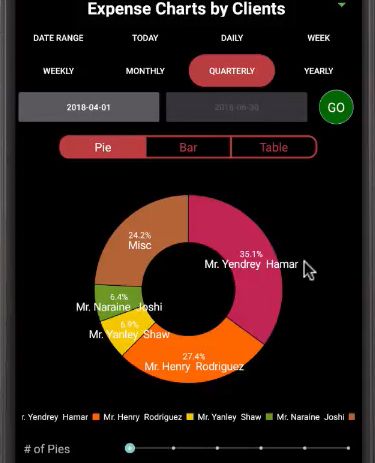 JUNE 25, 2018—OTTAWA—Legal practitioners across Canada are now capable of viewing detailed analytics to see their firm's financial health from uLaw's mobile web application.
Lawyers logged in to uLaw from either Android or iPhone devices can scrutinize virtually all elements of their firm's accounting. Fee books, client expenses, firm expenses, pro bono work and a dozen other options are available while on the go.
Previously uLaw provided the same statistics but it was only accessible from the reporting function when users were logged in to uLawPractice.com.  As of June 2018, automatic statistical analytics can merely be produced from one's phone.
"It's astounding to take a step back and think that even the most cash-strapped legal entrepreneurs just starting out in private practice today can obtain detailed statistical analysis of their firm's financial health while standing in an elevator holding their phone. Ten years ago, even deep-pocketed Bay Street firms were only dreaming of this capability," says Terry Curtis, CEO of Superfluid Software.
"It's an amalgamation of small updates like this one--month after month--which proves to me that humanity is firmly embedded in the Information Age.  And we're happy to be a part of such a masterpiece."
Here are a few examples of the different types of charts users can produce on the go:
This is an example of an "expense chart by client." It can be viewed as a pie chart, as seen above, a bar graph, or a simple graph.
With an Expense Chart by Client, lawyers can surmise the percentage of outgoing expenses going towards particular clients.  For example, Mr. Henry Rodriguez can be seen swallowing up 27.4 per cent of expenses.  Is he worth it? These are the sorts of questions one can ask him/herself with the use of such analytics on the go.
Beta testers of this new uLaw software addition say the best part the convenience afforded to being able to check statistics during off-hours, when a practitioner isn't necessarily working.
What our team says:
"These insights into your practice are sometimes best processed at thoughtful times when one has a few minutes during leisure time to ponder the bigger questions about the trajectory of their career, and to weigh if adjustments should be made.  uLaw parses through all of this information and produces it so quickly and so readily through your smartphone," wrote a member of the uLaw Compliance Coding Team.
Analyzing your fee book
One of the many insights into how your firm is functioning is to break down the constituent elements of your monthly, quarterly or yearly fee book.
In the image below, uLaw mobile users can produce various charts to see where the majority of their fees are coming from. (Criminal, administrative, et. al.)
Pro bono
Pro bono work for a lawyer is fantastic, rewarding and important to many in the profession, and the population at large.  But sometimes it can be a bit tough to determine just how much pro bono work you've been up to over, say, the course of an entire year.
With the use of uLaw, practitioners are already charting this information.  Later on, our analytics algorithm will allow you to observe for yourself just how much of your time is spent on pro bono versus paid work.
Here's an example of the mobile interface our team just implemented.
Viewed in another way, practitioners with uLaw installed on their phones can also switch to the other Pro Bono analytic.
Pro Bono by Client:
Many other features are available to mobile users who want to take a peek at how their firm is performing with our mobile analytics addition, which is already implemented for users.
We would like to thank our loyal customer base across Canada for the continued support for Canada's only legal accounting and practice management software.
Regards,
The uLaw Team