uLaw Client Portal: automating client intake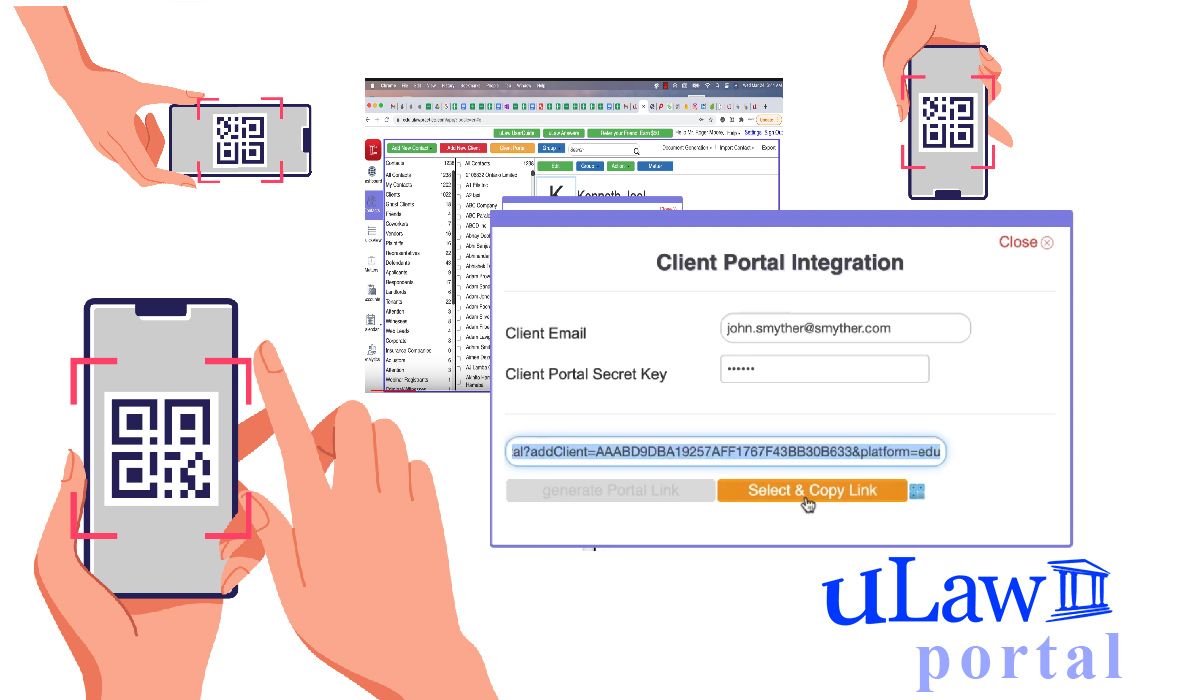 Minimizing face-to-face contact is a recognized need among Canadian legal practitioners who are currently operating during the ongoing pandemic.
As part of uLawPractice's legal accounting and practice management suite, our cloud-based software engineers have created a new handy tool called the uLaw Client Portal. This handy new addition to the system has already been implemented and is now being used by dozens of law firms to not only enhance the client intake process, but also minimizes less need for in-person communications with clients or prospective clients.
As any experienced legal practitioner knows, the client intake process invariably involves the meticulous gathering of personal details about a client and the potential legal matter that you may be assisting them with. The process of actually collecting their details can effectively be outsourced, digitally, to the client themselves.
With the uLaw Client Portal, you and your team will be able to send a QR code or web link to a contact form which will immediately populate your client book with their information.
Additional lockdowns may be foreseeable for the remainder of 2021 the spread of COVID-19 in communities across Canada. Nevertheless, the justice and legal system must find a way to continue and adapt to our changing realities. Part of this process of limiting exposure can be facilitated by software and automation tools which make things more efficient in general. This would be a good example of such a tool.
Now, potential clients can receive an email or QR code which you generate through uLaw. Whatever data they fill out will automatically populate your system. uLaw will build a profile and then during the creation of a legal matter, it will test and 'score' the information therein enclosed, and test to see if there are any mistakes of incomplete errors.
How it works:
Using the client portal is easy. It contains two parts: 1. configuring your uLaw system so it is ready to send out links to the client portal to prospective clients, and 2) actually sending out the emails and/or QR codes once it's configured. Follow the instructions below and take note of the images as well. Don't hesitate to reach out to our award-winning support team if you need any help.
Note: Users should still err on the side of caution and double check and approve of the information once it's inputted into the system.
1. How-to enable client portal
Settings->Contacts->Client Portal Integration (select uLaw portal)->Client Portal Secret Key (pick a good key)
Note about step four:
Make sure to take the time to  properly select a password. It should not be something simple like your pet. This secret key helps us keep you safe, so please choose something a little bit more complicated. We suggest using letters, numbers, characters; and upper as well as lower case.


2. Sending emails or QR codes to prospective clients
Navigate to Contacts (left column)->Client Portal->Fill out email->Use secret key
This second step will actually send out a special link or QR code to a prospective client who can then take their time to fill their information out. Once the client fills this form out, your contacts will automatically be updated with the information.
The form that you'll be getting people to fill out on their own looks like the following:
This information will then be rated with an automated scoring system once you first process a matter, to perform a safety check to confirm whether important details were filled out. Always err on the side of caution and double-check this information, as mistakes may occur.
Proceed as usual with the rest of the client intake process.
Questions or concerns? Email us at support@ulawpractice.com