uLaw speech to text: dictate your dockets to uLaw!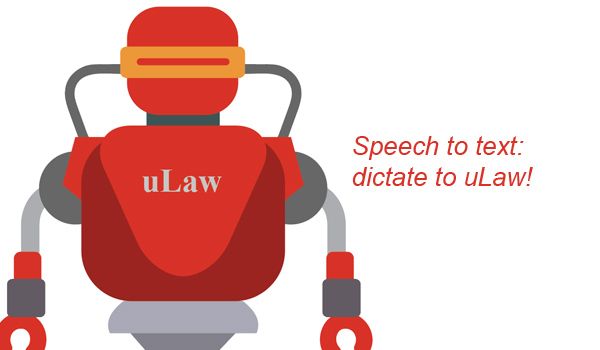 We always say that uLawPractice works as your digital legal assistant. And now, as of uLaw's newest 2022 tech update, you can begin to talk to uLaw.
Using machine learning algorithms, uLaw developers have recently added a new feature into the system which uses speech to text directly inside the uLaw system.
When filling out fields inside uLaw, such as the description of services rendered on behalf of clients, users can hit the 'record' button instead of typing things out, thereby making it possible to simply dictate to the software.
Users already familiar with the software will recognize this user interface as the "Matters" screen, where time docketing is conducted. However, when a user navigates to fill out the "description" field, they will see a new Record button. Check out the image below.
How it works
Note: You'll need to have a microphone on the device that you're using in order to use this tool.
Simply hit 'record" and begin speaking. This will record a small sound clip, and it'll give you the option to listen to it again. When you're satisfied with the sound clip, you can click the "Speech to text" button beside the playback button.
Clicking the speech to text button will trigger the machine learning AI to translate your words into text, and then it'll place it into the description field.
The algorithm is still learning syntactic text to speech. This means you'll need to go back and add capitalization and a little bit of grammar.
The speech to text option is available for filling invoices and other fields throughout the uLaw system.
Choose your language
uLawPractice's text to speech algorithm supports both of Canada's official languages. You can configure the language settings by visiting Settings (top right) -> Matter -> scroll down to "Speech to Text Voice" and select the language that you want uLaw to be interpreting your speech from.
And that's how it works!
Keep an eye out on this blog to find out more new features.
The uLaw team is always working to evolve the software to keep up with client demands. Our team actively encourages clients to reach out to us by email with requests for new features. If you have an idea, don't hesitate to let us know: info@ulawpractice.com
Instructional Videos
Need more help/clarification on how this works? You can watch instructional videos on how to set up speech to text for your legal accounting and practice management software needs:

Q467. How can I add description to my docket by speaking to the browser?469. Can uLaw convert Canadian French Speech to Text for invoice description?