uLaw tech update: fancy watches, toggl integration, new .io domain name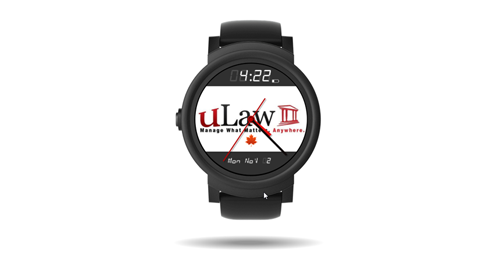 As always, uLawPractice developers are implementing new features to the software to bring even more functionality for the hundreds of lawyers and paralegals who use uLaw in their day-to-day business activities.
Here are a few of the updates and enhancements we've added to uLaw.
1. Toggl integration
This month, uLaw's developers have taken a bold new step into API integration by supporting integration with Toggl, a popular Estonian time tracking application.
With these new change, law offices making use of Toggl to manage their time will be able to bring the billable portion of their dockets into uLaw, meaning it's that much easier to track your time and actually get paid for it.
After all, uLawPractice is your digital legal assistant! It'll handle your legal accounting, even if your law office is using Toggl to manage its time.
You can visit this Youtube video to learn more about how to use Toggl with uLaw.
2.  uLaw.io
Since uLawPractice is a software company composed of.. well, software developers, it's an exciting moment for the whole team to announce that we indeed have a new domain name.
Are you on the edge of your seat yet? Don't worry, uLawPractice.com works just fine, but uLaw can also be accessed through the internet by visiting uLaw.io
It's fancy, it's new, and we figure it's a good time for a history lesson on why this is one of the hottest new domain names to be associated with startup these days. If you take a look around in your browser search history, you might be seeing quite a few more .io website extensions, and there's actually a good reason for it, though it's somewhat shrouded from the general public since its a clever use of inside terminology.
Although officially designated to British Indian Ocean Territory, ".io" is a domain extension that has been co-opted by tech startups. For all the software developer geeks out there, the abbreviation I/O has a completely different meaning: Input/Output. Often abbreviated as I/O, this term is used to discussing computing processes.
Since uLawPractice is a cloud-based "software as a service" (or SaaS for short), our team felt it was pertinent to let the world know that we are indeed on the cutting edge of technology, automating legal accounting and practice management procedures specifically for Canadian law offices. Behold! uLaw.io
3. Beautiful new 'watchfaces' for your android/apple smart watches!
It's always nice to be reminded that uLawPractice has your back. And now, you'll never have to forget, because our team has implemented stylish new watch-faces for your smart watches.
Apple users as well as android users will be able to add uLaw to their watch faces. We're sure you'll get compliments from people once they see you with your uLaw branded smart watch.
4. uLaw insights on your phone
We've saved the best for last. On the mobile uLawPractice app you'll see a new icon that looks like this.
This icon can be found in the bottom right hand corner of the screen on the mobile uLaw app. If you click on it, the application will bring you to a fully-loaded menu packed with empowering insights.
Previously, uLaw insights couldn't be accessed through the mobile app, and users had to log into the software on their desktop or laptop to gain access to all their analytics tools. But now, this is no longer the case.
There are four major types of analytics that mobile app users can now easily swipe through while on their phone. From letting you know that it's a client birthday all the way to reminders such as pending trust transfers or outstanding balances, uLaw analytics makes use of complicated algorithms which parse through your data and give you up-to-date information about your firm, your clients, and your legal matters.
To learn more about uLaw Insights, you can visit this link.
Thank you to our loyal users for providing us with the useful input that we've used to create all of these new features!
We couldn't have done it without you,
-The uLaw team