uLaw's automated Civil Estate forms, a technical guide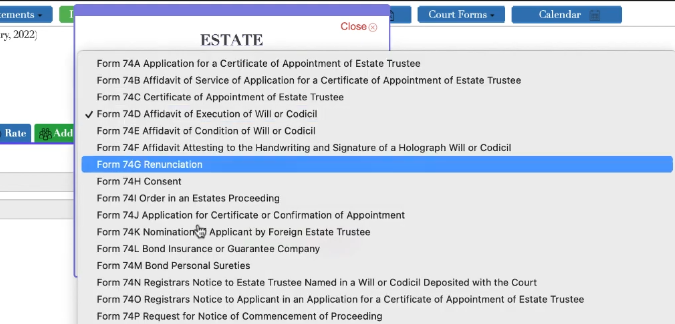 As part of uLawPractice's ongoing development, uLaw now is supporting automation of more than 70 Civil Estate forms for Ontario.
uLaw is committed to making your data work for you. This means that for the information you collect and store on your account, algorithms are working so you can re-use this information again and again when it is applicable, and thereby cut down on time spent filling things out when you could be focusing on important areas of your legal practice.
With respect to Civil Estate forms in Ontario, uLaw does the work for you by automating thes forms. To demonstrate, our team will begin by generating a new uLaw matter. This is done by simply navigating to: Matters (left-hand column)->Action (green, top)->New Matter
Within the new matter you can select whichever area it may be in by inputting information into the fields relevant to the matter. For demonstration purposes we are opting to write an Estate Transfer matter on behalf of Jonathan Forms.
Next, we're going to navigate to Additonal Parties (centre, blue) to create parties that are present for that legal matter, such as a beneficiary, deceased, or whatever classification the individual is having.
Note: for deceased contacts to work properly, under contact management you will need to make sure that that person's death details are filled out, otherwise uLaw will detect that the deceased isn't actually deceased at all, which is a problem obviously.
Once you've filled out additional parties to your matter, its' time to actually generate some forms. This can be done by visiting  Matters (left-hand column)->Court Forms->Civil Estate->(Choose from a selection of more than 70 different supported civil estate forms.
Check it out!
Once you've selected the particular form you want to automate, click the download button to get a pre-filled template where you get a chance to review the data and fill out whatever fields still need to be tackled by you, the human.
uLawPractice will automate as much of a court form as possible. This means you can spend time on what sensitive fields require your manual intervention. The main goal, of course, is to cut down on human error and redundancy, by repurposing your data just for you.
Have questions about this new feature or want to suggest some new ones? Drop us a line at support@ulawpractice.com
Also, we've created a video tutorial on this subject, which you can view by clicking the link below! Thanks for supporting uLaw, Canada's most trusted digital legal assistant.