Vote for uLaw and get chance to win $200 Amazon.ca gift card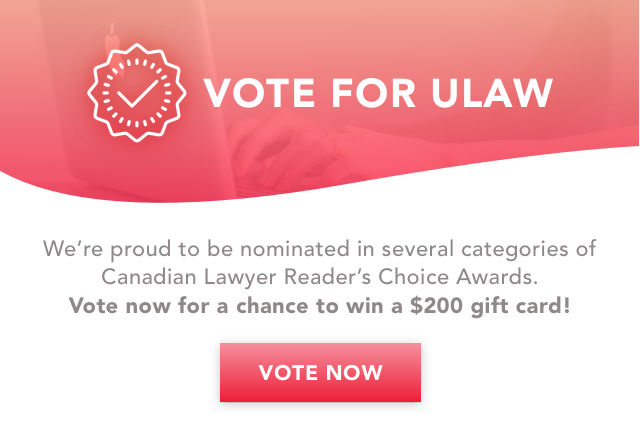 Friends of uLaw, we have a very important request to make of you.
Our practice management and legal accounting software has been nominated in several categories of Canadian Lawyer Magazine's Reader's Choice awards for technology in 2018-19.
According to Canadian Lawyer Magazine, if you fill out their survey you also get a chance to win a $200 gift card for Amazon.
Double your chance to win an Amazon gift card by clicking the link below, as we'll place you in our draw as well to win another $200 from Amazon.ca
The categories our software falls under are the following:
Calendar & Docketing Software/Solutions
Case Management Software/Solutions
Cloud-Based Practice Management Software/Solutions
Matter Management Software/Solutions
Time & Billing Software/Solutions.

At uLaw we strive to deliver automated solution for lawyers and paralegals to conduct their administrative and compliance duties seamlessly through cloud computing.
In order to deliver this continued goal we aim to get more clients and raise awareness about our software. This is where esteemed awards come in, because they give our company the opportunity to reach out to practitioners across the country.
***After voting please leave a reply with your name and email that you have voted for us to enter the draw.