You have questions, uLaw has answers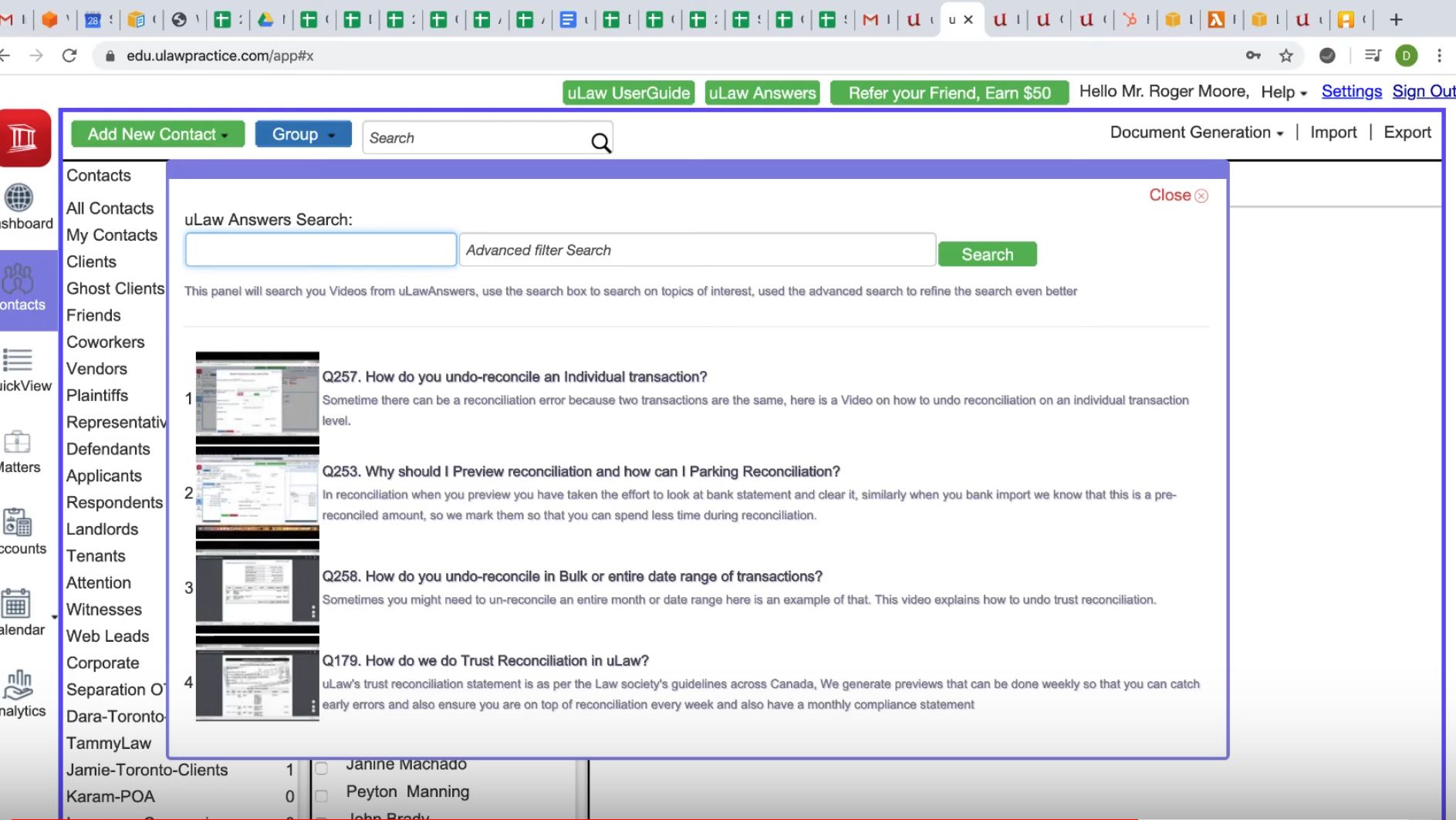 As Canada's only legal accounting and practice management software, uLawPractice packed full of tools fit for just about any small and mid-sized legal firm in Canada.
Due to the sheer amount of the tools you can utilize, it might be a little bit intimidating sometimes to figure out how to conduct some pretty basic tasks. Even if the right buttons are right under your nose, we understand you might need a little bit of help, especially your first time around.
Don't worry! We are here to help. But before you schedule some one on one time with us (which we are happy to do), we recommend you click the GREEN button at the top of uLaw's main system.
uLaw Answers is here for you
If you're struggling to conduct a compliance, banking or accounting related task using uLaw, don't worry. Chances are, dozens of people have run into the same issue as you their first time using the software. That's why we've taken the time to run through troubleshooting on just about all issues you may confront during your time using the software.
Pay attention to the following image. You should be able to see a green 'uLaw answers" button, which has an indexed list of many common questions asked to our staff by customers just like you.
The search function will allow you to breeze through a gigantic list of hundreds of questions collated over the years by our support staff. Hopefully you'll be able to find an answer to your question through this system, because it'll be faster than arranging a time for you to speak with our staff.
Can't find an answer? Don't worry.
These things happen, and that's why uLawPractice has invested so heavily into 24/7 support coverage for you. Our team works hard--around the clock, actually--to be available to our clients. Rest assured, we will help you if you have any questions.
Don't forget: uLaw will walk with you every step of the way through your journey of compliance with regulators. Our goal is always to support your bookkeeping and compliance obligations. We are here, always!